Saturday, November 19th, 2016
It's not even Christmas but here's an eight page comic for you to read right now.
The Corner of Some Foreign Field.
Generous to a fault, that's what everyone says about me.
Genesis: me and my old pal Alfie Gallagher were both between larger projects and looking for something quick to scratch that old creative itch. Sometimes Sudocrem just won't do the job. It wasn't long since we'd finished our run on Gentlemen Ghouls for David Lloyd's digital comic Aces Weekly, and we'd enjoyed working together on that immensely, so why the hell not?
We got Bram Meehan, Santa Fe's finest letterer and designer, on-board. He was the only choice having done such an outstanding job on Gentlemen Ghouls. And we were lucky enough to get the brilliant Chris O'Halloran to work his colour magic for us.
Alfie threw out some loose ideas: things like Moore/Bissette/Totleben era Swamp Thing, rural folk weirdness, Alan Garner, and Nicolas Roeg films. I took all that on-board, adding in my perennial WWII and folk horror obsessions before turning the brain blender up to full blast. Here's what oozed out…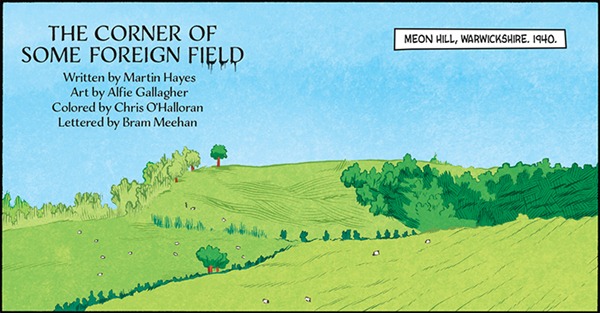 You can read the whole thing here: http://goo.gl/owtC4Y
If you like it, give the fellas a follow…
https://twitter.com/AlfieGallagher
https://twitter.com/ChrisOHalloran
https://twitter.com/BramMeehan