Comic Cover of the Week #2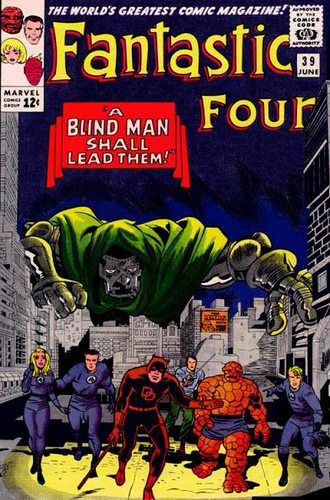 Fantastic Four #39 – June 1965.  Jack Kirby cover.
JOHNNY: FOR FUCK'S SAKE DD, WHERE ARE YOU GOING? DOCTOR DOOM IS RIGHT BEHIND US! ARE YOU FUCKING BLI–? OOOPS!
SUE: ->TCHT TCHT<- JOHNNY!
BEN: I'VE HAD UP TA HERE WITH THAT PUNK-ASS KID. HE AIN'T GOT NO RESPECT FOR HIS ELDERS, I TELLS YA! IT'S CLOBBERIN' TIME!
DAREDEVIL: SHUT UP! SHUT UP! SHUT UP! DO YOU HAVE ANY IDEA HOW LOUD YOU'RE BEING???