Thursday, February 19th, 2015
My next graphic novel is called Abominable Glory and will be launching at London Super Comic Con on 14th and 15th of March 2015. I'll be there, as will the artist Chris Askham. Check the press release below for signing times and whatnot. There'll be some reviews and such cropping up in the coming weeks.
Good to see this finally creeping into the daylight. It's a story I've had knocking around the mouldering recesses of my brain for a good few years. A bit of a love letter to the cryptozoology books I read as a boy, and to the war comics I grew up with; Battle Action, Commando and the like.
As always with comics this was a real team effort. A yeti-sized round of applause goes out to Chris Askham for his amazing art, Bram Meehan for his top-notch lettering and design work, and Matt Soffe, for his superlative cover.
Bonus material includes concept sketches, script-to-art samples, an essay about how the books and tv shows of my youth provided the seeds for this project, and pin-ups by Jamie Chase and Marc Jackson.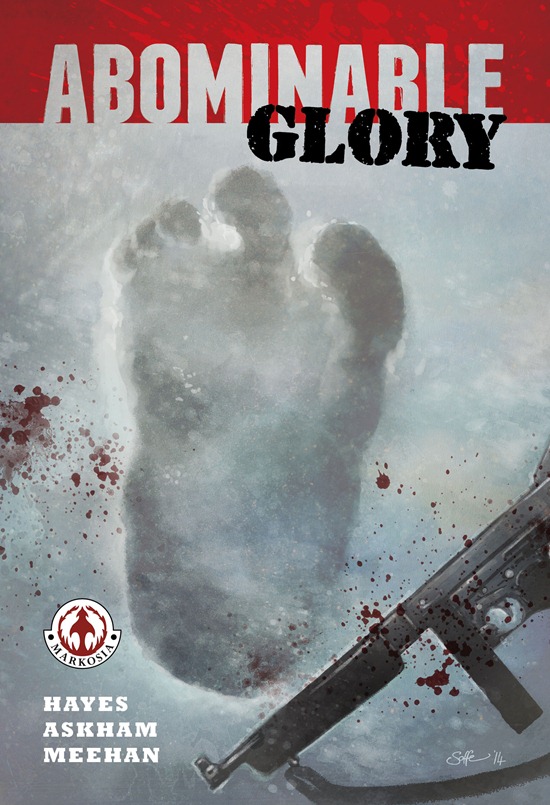 Abominable Glory is published by Markosia and will launch at the London Super Comic Con in the Excel Centre on Saturday 14th of March, 2015.
Written by Martin Hayes, whose previous projects include the graphic novels Project Luna: 1947 and Aleister Crowley: Wandering the Waste, and with art by Chris Askham, who has illustrated for Siti's Sisters, Zarjaz, and DogBreath, Abominable Glory is 80 pages of grey-scale monster mayhem.
Martin and Chris will be signing at the Markosia booth from 10-12 on the Saturday and Sunday of LSCC.
Abominable Glory is currently available to pre-order at amazon.co.uk., amazon.com, and direct from Markosia. I'll be selling signed copies here as soon as I get them.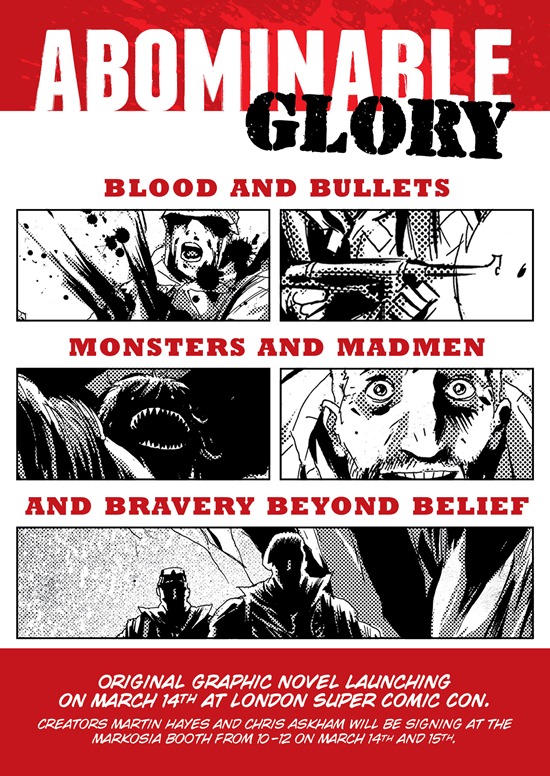 Published by Markosia
ISBN: 9781909276475
Written by Martin Hayes
@martinhayes and www.paroneiria.com
Art by Chris Askham
www.chris-askham.co.uk
Letters/design by Bram Meehan
www.bramletters.com
Cover by Matt Soffe
@mygrimmbrother
Here's the first four pages…