Friday, August 30th, 2013
A long time ago, back when dinosaurs and Jesus were knocking about together and neither of us were quite so decrepit as we are today, Jim Boswell and I worked on a little four-page, grey-scale comic strip called Intergalactic Bank Robbing Teenage Space Aliens On The Run. It was a fun little mad-cap science fiction story, not the heartfelt think-piece you might be imagining from the title. It appeared in issue 12 of FutureQuake and led directly to us doing Project Luna: 1947 together.
Well, it's getting reprinted soon, which means Jim has been busy changing grey-scale to full colour. It looks really good. See…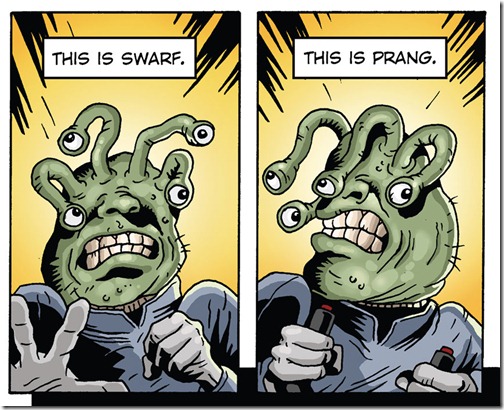 It'll be reprinted in the forthcoming British Showcase Anthology which is being put together by Adam Cheal and published by Markosia on October 1st.
I do feel like a bit of a fraud, I am not British, after all. But Jim is, and he organised it, so I get to sneak into the book like a corpulent, blood-bloated tick hiding in a fold of neck flab.