Things that you hear #1
I was having a couple of pints in a pub not far from Christchurch Cathedral in Dublin one Wednesday evening not too long ago. A small and sweetly squalid pub – little more than a wide room with a U shaped bar in the middle of it. I was the only customer. Just me and the barman, who I had never met before. A small television was fixed to the back wall, high above the bar. He turned the volume up when the six o'clock news came on and Sharon Ní Bheoláin began to inform us of the important issues of the day.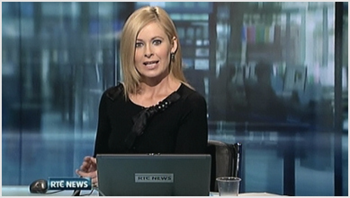 The barman was standing beneath the tv with his back to me when he said, "I think Sharon must have been drinking a lot of milk lately."
"Oh yeah, why's that?" I asked.
"Because her tits are definitely looking bigger these days," he replied.
He didn't follow this comment up with anything. And did not speak again until my Guinness was almost gone and he asked me if I wanted another. Sometimes it is strange, the things that you hear in pubs.