Project Luna: 1947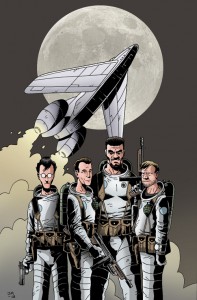 Project Luna: 1947 will be an 88 page original graphic novel written by me with art by Jim Boswell, who I worked with a little while ago on a four page sci-fi strip for Futurequake.
Contracts with Markosia are signed and we're good to go.  Above is Jim's first mock-up cover, a try out as he gets to grips with the characters, sorts out their hair colours and builds, designs the ships and what not, and it looks rather splendid.
Jim's a great artist and I'm really looking forward to seeing his pages as they come in.
So, some good news to end the year on.  Who knows . . . next year might not be complete shit after all.